Our Shop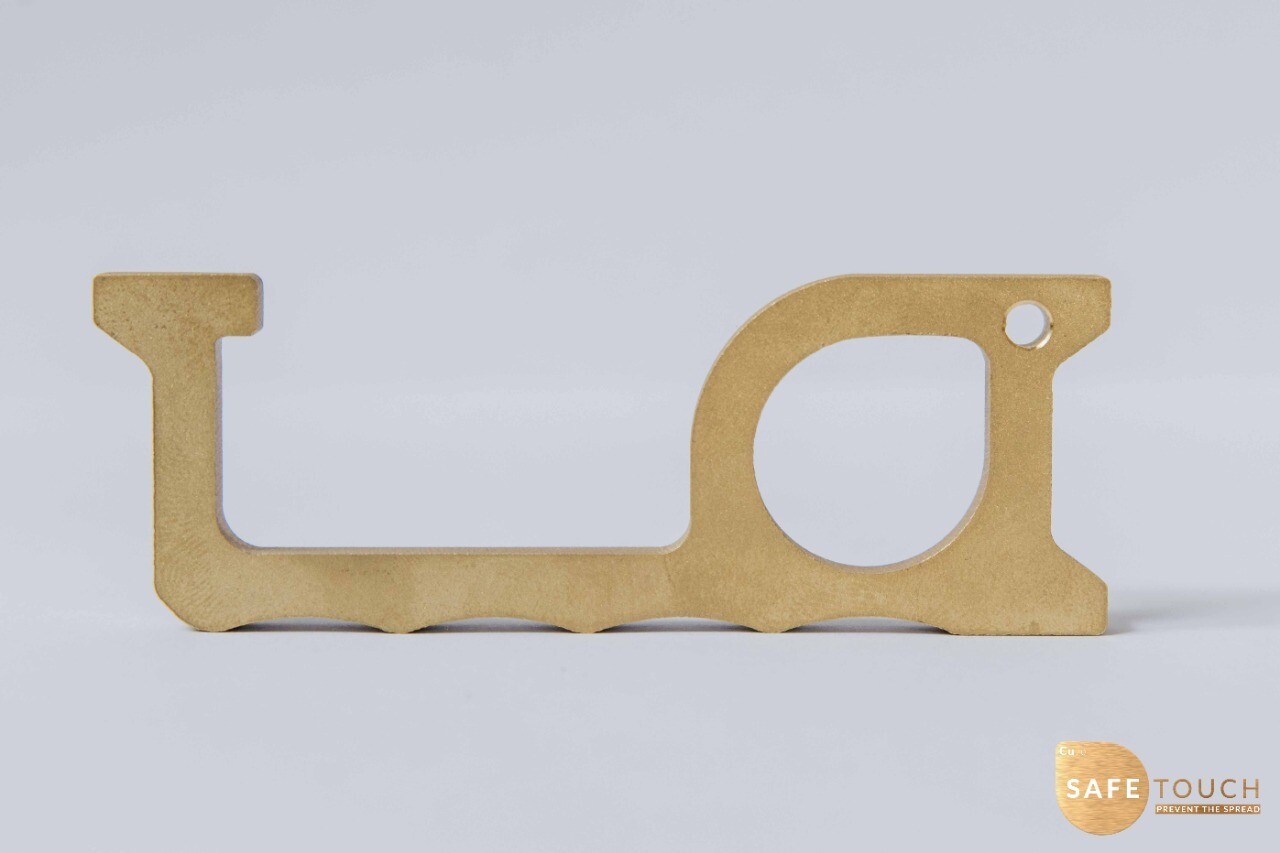 SafeTouch Tool
SKU 00054
Product Details
Description
SAFE TOUCH is an everyday carry device made of solid antimicrobial brass. It is used to avoid unneccessary touching of surfaces and interaction with elements such as door handles, doors, ATM machines, point of sale machines, ticket machines, flush plates, public restrooms, shopping bags, etc.
Actions
It's main actions include:
Push

Press

Open

Pull; and

Carry
Hopefully the pandemic does not last forever, and when it is finished, SAFE TOUCH may still be used to avoid touching unknown surfaces. It also functions as a handy bottle opener.
Benefits of using Brass
Brass is natural ANTIMICROBIAL material as a result of the copper content within the alloy.
Of all the surface materials, the COVID19 virus has the shortest lifespan once in contact with brass. (Source: New England Journal of Medicine)
This makes brass the ideal material with which to touch unavoidable surfaces as opposed to plastic, perspex or steel alternatives, on which the virus survives between 3 and 5 days.
Brass is a beautiful timeless material that ages through time to a stunning natural finish.
Manufacturing
SAFE TOUCH is created with an expert level of craftsmanship. It is cut from a single sheet of solid brass, with a high level of precision at a pain staking slow speed to ensure perfection.
It is then removed from the sheet and finished further through several more processes.
The process of manufacturing and packaging gives several people and their families the opportunity to make a living during these uncertain times.
Conclusion
SAFE TOUCH, a simple tool to prevent the spread, keep you safe, support industry and the lively hoods of many other.
Bulk Purchase Discount:

10 - 99 items will receive 10% off
100 or more items will receive 15% off
Shipping takes up to 3 business days.
Save this product for later
Ultimate Pet Care ensures the highest standard of service, grooming and care. We have expert, professional trained groomers that will take care of your dogs, styling to breed standard or client's personal requests.